A zealot, Saul of Tarsus, in Jerusalem
In the first century when Jesus was born, a devout Orthodox Jew journeyed from Jerusalem's persecution of Christians to Damascus (Syria) to persecute more Christians. On the way the Lord confronted him. It was a conversion like all conversions to Christ--individual, unique, highly personal and transforming.
Paul, saved by God, goes to Arabia
Later, this man, once called Saul and then Paul as a devoted follower of Jesus Christ, went to Jerusalem and was not accepted by the apostles, because as Saul he had persecuted Christians.
He left for Arabia to study in what some call the school of the Holy Spirit. What was "Arabia" to Paul? N. T. Wright, in Paul, Arabia, and Elijah (Galatians 1:17) proposed that "Paul went where Elijah went. He went to Mount Sinai .... The word 'Arabia' is very imprecise in Paul's day, covering the enormous area to the south and east of Palestine; but one thing we know for sure is that for Paul 'Arabia' was the location of Mount Sinai."(See paragraph 11 in N.T. Wright article linked above.)
Mount Sinai, also called Mount Horeb, is on the Sinai Peninsula of Egypt. If N.T. Wright's reasoning is correct, that is where Paul went, that triangular, arid, desert region of Egypt, between the Mediterranean Sea and the Red Sea.
Paul travels back to Damascus
From Arabia, Paul returned to Damascus: "In the Galatian letter in 1:17-18 Paul clearly states that upon his return from Arabia he came back to the city of Damascus. Exactly how long Paul's stay in Arabia lasted is not clear, but combined with his return visit to Damascus was a period of three years." (Tracing the Steps of Paul)
His visit to Caesarea, then Syria
Next, Paul went to Jerusalem, then Caesarea. Then, again, he went into Syrian regions:
"... Upon Paul's departure from Caesarea, Luke tells us in Acts 9:30 that he was sent forth to Tarsus. It would be logical to conclude on the basis of his route that on his way back home to Tarsus this is when he stopped by different cities and visited brethren in the Roman province of Syria. Paul referred to this in Galatians 1:21." (Tracing the Steps of Paul)
Consider the capital, Damascus, then and now
Some say that Damascus existed 1,000 years or more before the birth of Christ, surviving takeovers by different empires. Three hundred years before the birth of Jesus, Damascus was a large Muslim caliphate. By the time of Jesus' birth, the Roman Empire ruled Damascus.
After the crucifixion of Jesus, and when Paul met Jesus on the road to Damascus, as recorded in the Acts of the Apostles,
he could safely travel into Damascus; he was

a Roman citizen. Damascus in those days was a thriving city of architectural, artistic, and trade interests.
The Christian community across Syria is one of the world's oldest, going back to the days of the Apostles. "... and there are Christians of today that speak Aramaic. In northern Syria, near the city of Aleppo, the historic Church of St Simeon Stylites stood...in the mountains west of Homs is the castle of Krak des Chevaliers, which was a fortress for the Knights Hospitaller during the Crusades." The castle is now badly damaged, bombed by government jets after it was used as a base by rebels in Syria's civil war. (Middle East)
In 2015, in the Syrian province of Hassakeh in February, hundreds of Christians are feared to have been kidnapped by the militants. Senior Christian clerics have also been kidnapped by unknown gunmen. Suspicion for the abductions has fallen on the Nusra Front, al-Qaeda's Syrian affiliate. "While their community faces a clear threat from the extremists of the Nusra Front and Islamic State, Christian men have been fighting in the multi-layered conflict - either alongside Kurdish militias or alongside relatively secular rebel factions, or government forces." (Syria's beleaguered Christians)
Christian and Muslim Syrians
The apostle Paul nurtured believers wherever he journeyed, including his travels through Syria. Christians today are descendants of millennia of Syrian believers in Jesus Christ. Only five years ago, Syrian Christians made up about 10%, or 4.4 million, of the country's population.
During on-going war and fighting in and beyond Damascus, neighborhoods are made into rubble and many sites destroyed, including the Aleppo mosque, northern Syria, shown below, debris hanging and repair seeming to lie far into the future, if at all.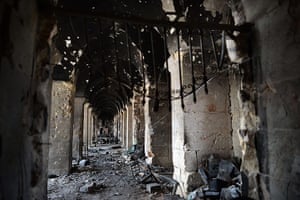 Damascus and Jerusalem
Damascus is an important history location to Christians around the world; it was where God began to teach a new Jewish disciple of Jesus Christ and to call him to preach to the Gentiles. That was the apostle Paul, once known as Saul of Tarsus.

Let's pray for peace in Syria and for the displaced Christians and Muslims. The persecuted are Christians who resisted threats and fled for their lives due to their faith and the ongoing conflicts in Syria. Let us pray for places of safe asylum for all, until they can return home in peace. May those who follow Christ be encouraged by those who meet, feed, and house them.
Jerusalem was the city where Paul, who had persecutied the church as Saul, was at first under strong suspicion by church leaders. Jerusalem was where Paul was tested and accepted as a true believer, willing to suffer for the gospel.
Let us pray for the peace of Jerusalem, beset on every side, yet helping Syrian refugees. Let us learn biblical teaching about Jerusalem, including prophecies, and watch and pray that all will be fulfilled.
For, "In just a little while, he who is coming will come and will not delay." Hebrews 10:37